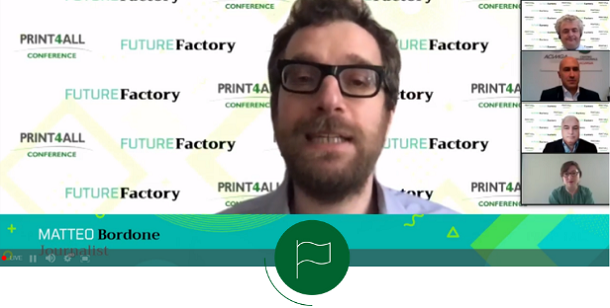 Good result for the first step leading to Print4All Conference – Future Factory on June 24. The May 18 preview obtains more than 500 subscribers, about a quarter of which were international, with an audience from almost 30 different countries.
The preview showed pills of content from the themes that will be analysed on a deeper level in June, such as the challenges of sustainability and industry 4.0. To open the preview, hosted by Matteo Bordone, the General Manager of Acimga and the Federazione Carta e Grafica Andrea Briganti who recalled the philosophy behind the event, which is that of bringing together the international community of printing, converting and packaging, from technology manufacturers to brandowners, facing together the future challenges of the industry. Next, the General Manager of Argi, Enrico Barboglio who shared thoughts on how Covid-19 has rewritten the importance of connections and the internet, also in the printing industry. Alice Bodreau, Global Partners Manager at Ellen MacArthur Foundation, outlined some of the steps to move from linear to circular economy. Finally, Fabrizio Renzi, President & CEO rnbgate rnb4culture, Angel Investor, IBM partner and expert in artificial intelligence, has expressed some of his ideas to renew processes in a "disruptive" way within the world of printing and packaging.
All these concepts will be deepened on 24 June when, in addition to the speakers of the preview, other important speakers will gather thoughts.
For more information about the Print4All Conference of June 24 and to sign up visit the website https://conference.print4all.it/en/